As one choco milk commercial has said: "Great things start from small beginnings." For our first komiks feature, we will be giving tribute to the komiks that started it all. Not just for me, but for most of the komiks enthusiasts that I know.

Ladies and gentlemen, I present to you:

Pilipino Funny Komiks by Islas Filipinas Publishing Co., Inc.
Pilipino Funny Komiks, more commonly known as "Funny Komiks" or "FK" for short, first made its way into the news stands in the
1978
. I got my first copy around 1990, when I was just three years old. My mother and I had a ritual: she would bring home a copy after work on Friday nights. We had this silent agreement that I had to be good the whole week so that I could be guaranteed a copy of Funny Komiks by Friday evening. (I guess that pretty much explains why I have several missing issues. :P)
My entire childhood was devoted to collecting copies of FK, and I had copies dating back to 1990 until I learned recently that the oldest copies had been "accidentally" sold off to the junkshop. (ARGH!!!)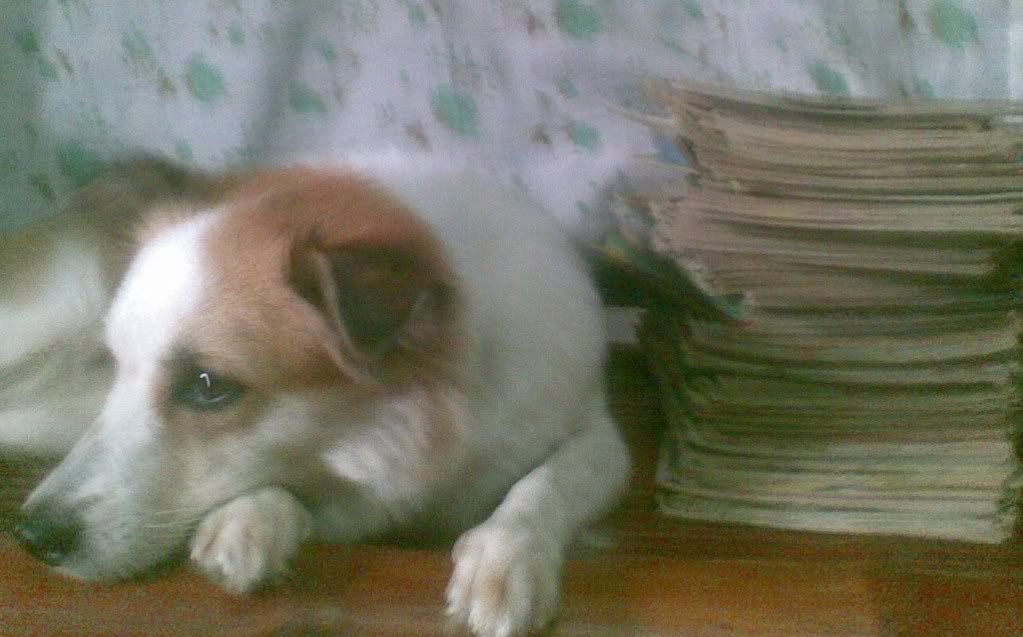 How high is the pile? My dog Cappuchino did the honors of providing the scale.


Unlike other komiks that focus on a single story per issue like most American comics, Funny Komiks is a collection of several stories in one issue. This is similar to the layout of manga magazines from Japan, except each issue of Funny Komiks is about 20-30 pages long. This is the layout that has been long adapted by komiks artists. (How long, I'm not really sure. My mother says that layout has been around since her time so I guess its pretty old.) But because of this format, each story only have three to four pages long of exposure time before giving way to another story, leaving the readers hanging in suspense until the next Friday when the next issue comes out.

Yep. Bitin much, right? And yes, it's not just once did I scream, "OMG!!! I NEED TO KNOW WHAT HAPPENS NEXT!!!" mentally (and sometimes, out loud.)

Still, what can you expect for something worth only a few pesos? I used to buy it for P5.00, but I have read from the milestones in their special anniversary issue that their copies used to be priced at 10 centavos!

But this strategy was probably the secret to FK's success as they continued to become one of the bestselling komiks even after the other komiks began to disappear from news stands.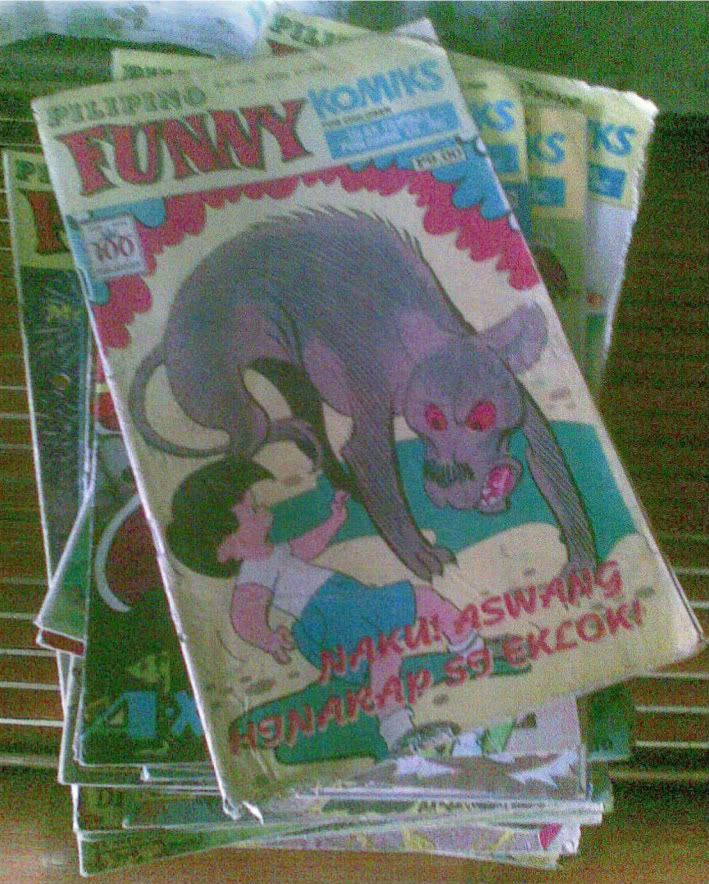 (Salvaged) Pile No. 2: Circa 1995 - 2001
Still, all good things must come to an end. By the time the new millenium started, Funny Komiks began to suffer a decline in sales. I noticed this as lesser and lesser newsstands offered FK until it finally disappeared altogether in 2007 (*). It managed to reappear in 2009 (*) in two succeeding issues but because the look, feel, and theme had changed, it failed to pick up where the old FK had left off.

The stories changed over time, though they continued to evolve together with the changes in the tastes of the generation.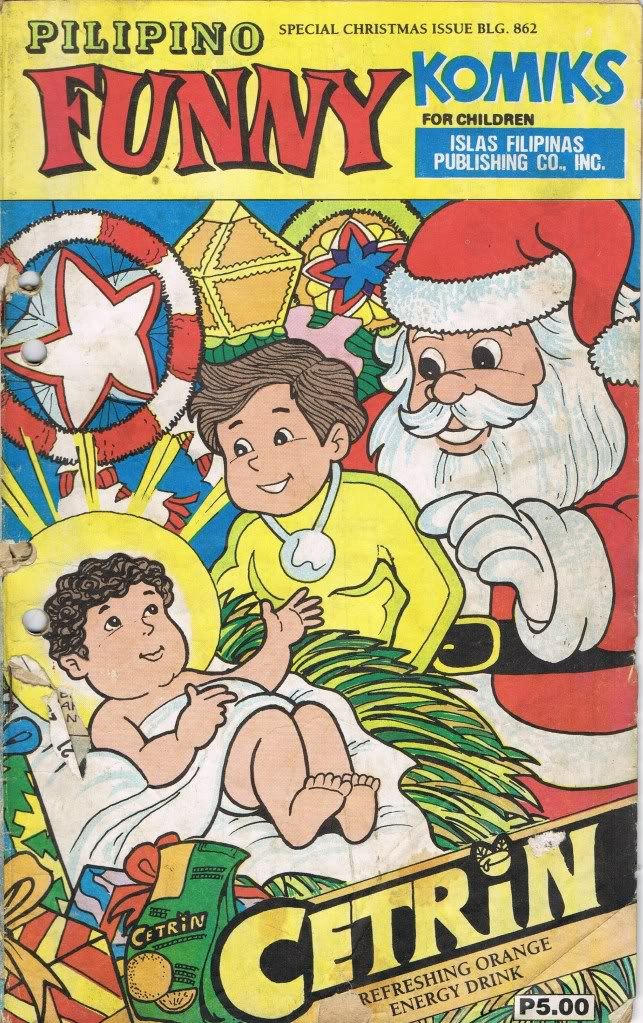 The oldest copy that I have at the time of writing is a Christmas Issue from 1994.
Ad placement for Cetrin Energy Drink not intended.
Not limiting themselves to comedy, Funny Komiks welcomed artists that showcased new content. At the time that mecha cartoons and anime was popular, FK came out with cyborgs in the form of Combatron, Jonax, Viktar Starkid, and Voltek Payb (a comedy parody of the mecha series, specifically Voltes V). As for super heroes, who can forget the rotund Pinoy version of Superman, Super Blag! with his unusual flying pose and his named coined from the sound he made whenever he landed?
When the movie Casper came out in 1995, FK released a new series entitled Bamper which is about a female ghost and the young boy she was guarding. The comedy line did not escape this trend as FK also published localized versions of Tom and Jerry (Tomas and Kulas), Dennis the Menace (Pitit, Eklok), and Planet of the Apes (Planet op di Eyps).
With this collection of talented komiks artists, one cannot deny the fact that Funny Komiks became their first or final stepping ground into or out of the komiks industry. Some FK artists now work as illustrators for children's books. Others went to other countries to perfect their craft and make a name abroad. While those who are still part of the local industry continue their struggle and pursuit of their life's work and are now making their mark on the generation of today.
Looking back at my copies of Funny Komiks, I feel a sense of nostalgia as I remember how FK was a big part of my childhood. The characters of the stories were my best friends, and the artists and writers my own inspiration to become a komiks artist and writer myself. It might be wishful thinking, but I do hope that Funny Komiks makes another comeback, with the same theme, same feel, and same look. If possible, even the same artists. So that when the time comes, I will be able to pass down the stories of FK to my kids, and so that they too will be wrapped in the same magic that only komiks have.
If only I can tell you all about those stories! Like the time when Tinay Pinay busted out the aliens or when Eklok went caroling with ghosts or when Combatron fought off Mega Death and...
Wait a minute! Why don't I tell you my Top 5 Favorite FK Stories instead?! And I can also share with you links where you can read copies of them online for free!
That means I have to re-read Funny Komiks again... and CHOOSE ONLY FIVE?!
WTF. This is going to be hard. Let me think about this for a sec.

...

For the love of Funny Komiks and OMG!!! Komiks!: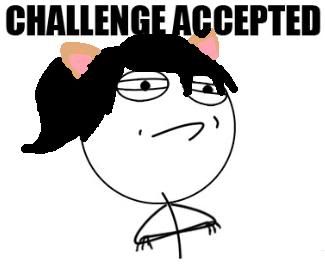 Edited using MS Paint.
THIS is why I am still a frustrated komiks artist.
(And yes, those are cat ears. Deal with it.

)
Ok! It's final! So watch out for my next post!
For now, I'll be taking off my cat ears and fulfill my spiritual duties for the Lenten Season. But I'll be back! And when I do, you better be ready! Because your summer is about to be Komified!
Neko Mimi, over and out!
Footnote:

*approximate year only, based on the observed visibility on newsstands.